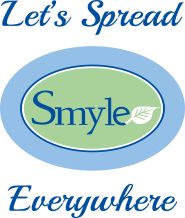 Let's spread 'Smyle' everywhere has been a driving mantra for the growth and success of the Smyle range of products for nearly two decades. The Smyle Mouth Ulcer Gel, introduced in 1997, has become one of the most preferred natural mouth ulcer gel formulation in the country. Nearly two decades since its launch, it continues to be a natural, safe and time tested brand in oral healthcare.
The success of the Smyle Mouth Ulcer Gel inspired the launch of a wide range of natural oral care, healthcare and personal hygiene products. These include 100% herbal Smyle cough and sore throat reliever for productive and dry cough, Smyle throat drops and a range of herbal toothpastes. In addition, new products such as Smyle Fast Aid Wash Proof, Smyle Prickly Heat Powder, Smyle Sandal Soap, Svizpor Surgical Tape etc are being introduced under the Smyle brand umbrella.
Our purpose remains as strong today as it was when we started two decades ago i.e. to spread smiles across India.